Dental Disease and your pet
Dental disease is one of the most common problems seen in our pet population. It affects 85% of all dogs and 70% of cats. Dental disease affects the whole body! Infection from the teeth and gums spreads bacteria throughout the body causing heart valve infections and kidney infections.

South Trail Animal Hospital has the following recommendation for dental care at home:

- Start as soon as possible, 8-12 weeks old is best. By brushing once or twice a week, pets become familiar with the routine.

- Make it FUN! Use love and praise to gain their confidence.

- Start by handling the mouth and rub the teeth and gums with your finger.

- Next use a small wash cloth or a piece of gauze to scrub the teeth.

- Finally, use a pediatric tooth brush and water or pet toothpaste (human toothpaste is not recommended because the pet can swallow the paste)

- Chew toys and abrasive foods keep tarter from forming on teeth.

If your pet needs their teeth professionally cleaned, we are equipped with an ultrasonic cleaner and polisher. All dentals are performed with the pet under anesthesia; therefore pre surgical blood work and an ECG are done before the procedure. Our highly qualified technicians stay with your pet from the beginning of the procedure until they are fully recovered from anesthesia.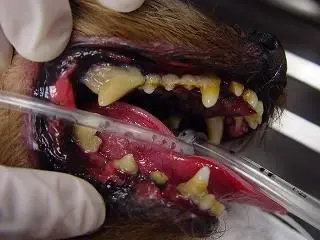 BEFORE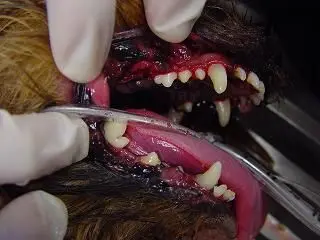 AFTER